twi
Suspiciously Absent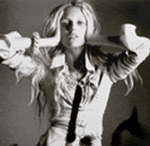 Joined: 30 May 2007
Posts: 13
Location: Nebraska
Posted: Tue Jul 17, 2007 1:10 pm

Post subject:

---

it seems more probable that the code would start at the beginning and continue throughout..perhaps the rapid blinking was just to make sure he got our attention.
Anyone with the skills try doing the code from the beginning?
_________________
"Of all tyrannies a tyranny sincerely exercised for the good of its victims may be the most oppressive."
~C.S. Lewis
JenniPowell
Lonely Fan



Joined: 01 Nov 2006
Posts: 225
Location: Hollywood/San Diego, CA
Posted: Tue Jul 17, 2007 1:21 pm

Post subject:

---

We could try that. But there is a very clear moment where he looks directly into camera that just feels like a "hey, look at me, I gotta tell you something" moment.

But I'm all for seeing what we can come us with from the beginning...I just won't have time to dig into it until later this evening. Anybody else willing and able should have a crack at it.
_________________
Let me live, love and say it well in good sentences. --Sylvia Plath

LonelyJew15: The Original "New Girl"