Creature, Inc
From LGPedia
Creature, Inc.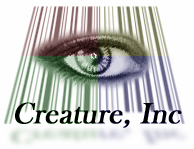 Summary
Creature, INC is an Alternate Reality Interactive Web Series that centers around a world where our government has been essentially 'sold' to the most powerful and corrupt corporations of our time. Economic conditions resulted in a cataclysmic downward spiral of America to the point where corporate America was able to seize control of a government that had decayed close to the point of bankruptcy. Our civil rights are being slowly removed from us, our laws have become flexible to the will of those in power, and corporate sponsored mind control is on the verge of being instituted forcefully.
Creature, INC takes place within The Coalition extended region of the Red Territory. Viewers and players of the series are encouraged to create characters of their own, and to participate in the series itself. Not only does their help support the Alternate Reality aspect of this series, it may in fact be crucial to the survival of the world itself.
Character Descriptions
This section is still in the development phase.
---
Infrastruck: the central character in the show.
Greg: has the same physical characteristics to Infrastuck, but different memories.
James Creature : CEO of Creature, Inc..
Genocide: a friend of Infrastruck.
Jason (deceased): A friend of Greg and Kim's who committed suicide because of mind control.
Kim: Jason's former roomate
Jenners:(deceased) A former ally of Greg's
WatchingOverCInc: Unknown person who monitors Greg and C.INC
ManufacturedDestiny: A brainwashing recoverer who works for James.
Nix: Protector of Kim and Greg
Tinny09: An agent who requests a mission to aide or monitor Greg
MsMisteeq: James's assassin who kills Jenners
TheJanitorOfOXford: A character from the Worldfiles series
Ziola: A person who is being educated on hell by TheJanitorOfOxford
JessicaMorning: The loyal assistant of James Creature.
HopefulSemblance: A man with an unknown agenda.
ThEmptyCheshire/Jackson Creature: Possibly James' son or his clone. His alliance is unknown.
WaldenGhosts: A revolutionary force that opposes Creature, INC.
In Character Response Videos
Creature, Inc Logo and Endtag
The creation and design of the logo for the Creature, Inc is credited to community member Saffryn.
The creation and design of the end tag for the Creature, Inc videos is credited to community member MasonIsHappy.
External Links