Dark Delicacies Drop
From LGPedia
The Dark Delicacies Drop occurred on August 6, 2016. A puzzle discovered in the video I can't get away from lonelygirl15 announced that something would occur at the Dark Delicacies bookstore in Burbank, California on August 6, 2016 at 3:00 PM local time.
Claiming the Drop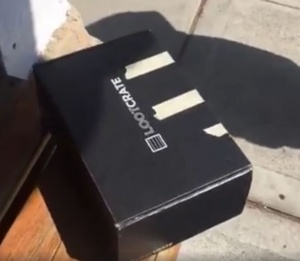 At the given time, angelique and isaacsforlonelygirl began a Facebook live stream and entered the bookstore. Almost immediately, they mentioned the code word "Rochambeau" to the cashier and were handed a taped Loot Crate box. As they were about to leave, the cashier mentioned "someone" being there, and angelique found Daniel hanging out nearby.
The three of them walked to a cafe nearby and proceeded to open the box. Inside were two manila envelopes, one marked "Daniel Barlow's Eyes Only -M", the other marked "Trust me now? -M". Daniel took the envelope marked for him as they looked through the other envelope. Daniel stayed for a few seconds before deciding to take his envelope back to Emma and asked for the contents to be posted online.
The Drop
Inside the box were several documents as well as handwritten notes from M, and an X-Files flashlight, which was given away as an exclusive Loot Crate item in January 2016.
See also