April Fool's Day
From LGPedia
Over the course of the LG15 Franchise's run, there have been April Fools jokes that have taken place that have been orchestrated by the community. This page documents what has happened over the years.
2007: Did you miss me?
Did you miss me? is the sixth video in the Cassieiswatching Alternate Reality Game. Bree is apparently still brainwashed by the Order's torture and shoots Daniel.
Transcript
(In black and white, a shaky camera pans around what looks like a hotel or motel room. The video is dark and grainy.)
Female voiceover: I was there. (echoes) (Repeated fast cuts of different angles of the room.)
(Two indistinguishable figures can be seen in the dark.)
Bree: Get away from me, I have to do it!
Daniel: No! Bree--
Bree: (Pulls out gun. In creepy voice says) I told you it's time to go home.
(Loud noise, probably a gunshot, is heard, followed by a groan and a thud. Screen fades to black. Quick flashes of murder scenes. Back to the hotel room. Flashes of Bree holding gun from different angles. Bree walks off camera without a word. We hear a door open, then close. Bree must have left the room.)
Female voiceover: I was there. Come and get it. (echoes)
(Very briefly a frame flashes on screen. It has coded text on it.)
GHELET GEPOJA NBKLNA BIOEHT WWOPGJ THOBKS
SOJCEE CEONGR NLLNLB BKNWLY ONPJPE BNFKNL
STYNON SDNHER GOKNFH BOFING KLFNSD SKLDNS
NMLD<F SKFJKJ OSWIEF KSFASS ASERDD SLFKEF
PPLPNN WIUEIU UITENM ADSLED ZADTGD GOKEDF

Explanation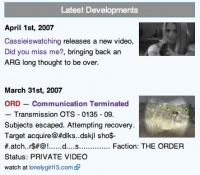 On April 1, 2008, an article was created on the LGPedia entitled Did you miss me? and was supposedly the sixth video in the Cassieiswatching ARG, which had ended in October 2006. However, the link provided was for a non-existant video, and the image of Bree holding a gun was actually from one of Jessica Lee Rose's earlier projects - In The Deep.
In addition, a note was added to the page that stated that "Another long dormant series, Paul and Andrea mysteriously re-appeared with the video Zeno's Paradox. The video was posted at almost the exact same time as the Cassieiswatching video. This has prompted many to speculate that Paulmark18 may be responsible for CIW." Paulmark18 was another popular spinoff of lonelygirl15 that had begun posting video around the same time as Cassieiswatching. The video mentioned also does not exist.
2008: The lonelygirl15 TV remake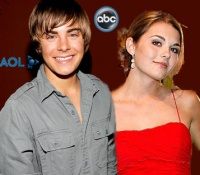 According to an article posted on Anchor Cove on April 1, 2008, the Creators had signed a deal with ABC and AOL to air lonelygirl15 exclusively on a new internet channel called EQAL. The show would star Jessica Lee Rose, set to reprise her role as Bree, and Zac Efron as Daniel. It would consist of thirty-minute long episodes with Bree vlogging in her bedroom, much like the earliest lonelygirl15 videos.
The show was said to feature a larger cast than the online version, as well as featuring music from many top-label musical artists. Bree's parents, for instance, were said to be featured much more heavily in the television version, with Bree's dad set to be played by David Hasselhoff. Due to copyright issues related to the original stuffed "P. Monkey" puppet, Bree's purple friend was to be played by a live monkey, who would also be "a wiz at fighting the Order."
Believability
The two most well-known blogs in the Breeniverse, Anchor Cove and LG15 Today, reported the news as factual as a part of the festivities of April Fool's Day, 2008 (April 1st, 2008). This, combined with a rather decently faked ABC news article caused numerous people believing the joke to be real, including Jessica Lee Rose herself.
Links