Drop 2 (where IS she going?)
From LGPedia
Tachyon's first profile change
aHR0cDovL3JhY2hhdi5yZWRpcmVjdG 1lLm5ldC8=

This was base64 for http://rachav.redirectme.net/.


Craigslist Bakersfield:
Title: I'm sorry I missed my ride. Please understand?
On the way home,
This car hears my confessions
I think tonight I'll take the long way ...


The three lines are lyrics from Dashboard Confessional; "The sharp hint of new tears".
Looking at the source each line has a different color
836570
707982
787987
708273
686589
515153
The attached image src="84646772897978


From Decimal to Ascii:
836570 SAF
707982 FOR
787987 NOW
708273 FRI
686589 DAY
515153 335
84656772897978 TACHYON


Voicemail
Brother changes the outgoing message on (213) 814-2839

"I'm at Bakersfield. Where are you? I was here at 3:35. I see no sign of you.
'Mom and Dad' were both pretty upset that you missed your ride. For the time being, the both of us are on a pretty serious restriction and they've cut our allowances, so to speak. So you're entirely my responsibility right now.
I'm gonna be here for another hour or two. Umm, I'm actually at the library and the rumors were true, they do indeed have public internet acces here. Taught me how to change the voicemail on this at least.
So, I hope youre checking in."

Video with the VM recorded here.
The Video: They Are Still Everywhere
Tachyon releases a video They Are Still Everywhere.
The location is discovered to be Pea Soup Andersen's in Santa Nella, California (located by highways 33 and 5). Ladron and Archetype track down the well hidden drop which contained:

a postcard:
side one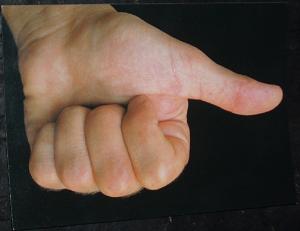 The Back
Interpret this anyway but down...for now.

another SD memory card:
contains video of a LG15 Daniel video (Where Are They Going?)
File name: GoodPurityStatus

A book:
The Book of the Law, with a folded page containing a bookmarker with a group of numbers.

the bookmark

folded pages:
page 39
page 40
Here's video of the drop recovery.
Another Profile Change
cmFzaGktMTMtMjcucmVkaXJlY3RtZS 5uZXQ=
Again Base64
rashi-13-27.redirectme.net


Craigslist Merced:
Title: O Brother Where Art Thou?
Must have been mid-afternoon
I could tell by how far the child's shadow is stretched out and
He walks with a purpose
In his sneakers
Down the street he had
Many questions like children often do...
He said, "Tell me all your thoughts on God?"
And tell me am I very far?
[ figured this was more your taste in music, too ]

Also on the page is a box that says LOCKLOOSER and DEGGAB/ELBOUD
These anagram to Look Closer and flip to double bagged

Lyrics are from Dishwalla "Counting Blue Cars"
The text colors in the code are again the answer
Take the colors out of hex and into Ascii.
The double bagged font color hex to Ascii is Lucky#
Then do a Rot13 (lucky number 13) which gives you
I COULDN'T WAIT FOR YOU. HOPE YOU GOT THE PACKAGE. DO MY NOTES MAKE SENSE? THOSE CONNECTIONS ARE THE TIP OF THE ICEBERG. THELEMA IS 1 OF ? RE: MESSAGE 2 PASS ALONG. REDIRECT CANAAN

Leading to the website
canaan.redirectme.net
Craigslist Modesto:
Title:Until You Hear From Me Next: Focus
Somebody stop me,
Somebody stop him please.
Night skies, brake lights,
Conversation cuts ties.
Somebody stop him,
Somebody stop me please.
Everything everyone never said
So call this a lesson that's worth being learned,
Is this the attention you deserve?
NTFKTVYIGQCGCWGCAGTVLNTQNPNKQWKCGTIGNXEOIAYCGZAAQTLNTQPJKZHLUELXPUQXFMHGSTGTT
A/0

Lyrics are "Attention" by ADELPHI
The font colors on A/0 when taken from hex to Ascii is Key is 3
It's a cipher
Vigenere with the key GPS (from the earlier video) yeilds:
HE NEEDS TO KNOW HOW LONG THEY HAVE BEEN ON TO HIM IT IS NOT LIKE THEY JUST STOP TRACKING SOMEONE
Speculation
(with fair agreement)

The bookmark pointed to certain lines from The Book of the Law and the symbols deal with Tachyon's interpretations.

23 - 41. The word of Sin is Restriction. O man! refuse not thy wife, if she will! O lover, if thou wilt, depart! There is no bond that can unite the divided but love: all else is a curse. Accursed! Accursed be it to the aeons! Hell.

32 - 24. Behold! these be grave mysteries; for there are also of my friends who be hermits. Now think not to find them in the forest or on the mountain; but in beds of purple, caressed by magnificent beasts of women with large limbs, and fire and light in their eyes, and masses of flaming hair about them; there shall ye find them. Ye shall see them at rule, at victorious armies, at all the joy; and there shall be in them a joy a million times greater than this. Beware lest any force another, King against King! Love one another with burning hearts; on the low men trample in the fierce lust of your pride, in the day of your wrath.

34 - 51: Purple beyond purple: it is the light higher than eyesight.

39 - 4. Choose ye an island!

39 - 5. Fortify it!

39 - 6. Dung it about with enginery of war!

39 - 7. I will give you a war-engine.

39 - 8. With it ye shall smite the peoples; and none shall stand before you.

39 - 9. Lurk! Withdraw! Upon them! this is the Law of the Battle of Conquest: thus shall my worship be about my secret house.

40 - 12. Sacrifice cattle, little and big: after a child.

40 - 13. But not now.

41 - 24. The best blood is of the moon, monthly: then the fresh blood of a child, or dropping from the host of heaven: then of enemies; then of the priest or of the worshippers: last of some beast, no matter what.

47 - 47. This book shall be translated into all tongues: but always with the original in the writing of the Beast; for in the chance shape of the letters and their position to one another: in these are mysteries that no Beast shall divine. Let him not seek to try: but one cometh after him, whence I say not, who shall discover the Key of it all. Then this line drawn is a key: then this circle squared in its failure is a key also. And Abrahadabra. It shall be his child & that strangely. Let him not seek after this; for thereby alone can he fall from it.

48 - 55. Let Mary inviolate be torn upon wheels: for her sake let all chaste women be utterly despised among you!

Notes
Rachav was the spy in Jericho who let in the Isrealites. All others were slaughtered, human and animal, young and old. All of the city was destroyed down to the last piece of pottery.
Rashi is Rabbi Shlomo Yitzchaki who wrote extensivly on the Talmud and Torah.
Canaan, the promised land of the Isrealites.
This was the first drop done after PM Glenn Rubenstein had been contacted by the lonelygirl15 Creators.
Solution Video