Facebook
From LGPedia
This is a wiki article about the Facebook Web site. To visit the Web site, see http://www.facebook.com/.
Facebook is a social networking site and competitor to MySpace and Bebo. Each of EQAL's shows has an official group on the site that community members can join to network with other fans. Facebook was used by characters of LG15: The Last, specifically Chasina, Jayde, and Antonia.
In the relaunch of lonelygirl15 of lonelygirl15 it was announced that the producers would be using modern social media platforms such as Facebook and part of the transmedia component of the series.
Characters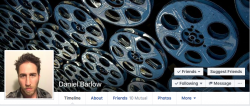 Official Groups