LG15: The Resistance puzzles
From LGPedia
For other series, see Puzzles.
This is an index of all the puzzles that have taken place in the LG15: The Resistance web series.
One Evil with Many Faces
The puzzle included with the "One Evil with Many Faces" video was the first of The Resistance series. The puzzle consisted of a Sendspace file which, when opened, contained binary code. Decoded, the file read as following:

[alwkcvNskwlsAalxdMflbscEeelc][DslwlOsxlaBsxlle][dldlPwwdftHsskskAskldfvkSwdxaaEasdew][sslslSsclpTsaAswa aTrjdkdU salkaSad kvgkf]//...

Those working on the puzzle soon found that each capitalized letter lent to the code's result. The ones within the puzzle, for example, spell out "NAME DOB PHASE STATUS."
The final result of this file is contained in the following image.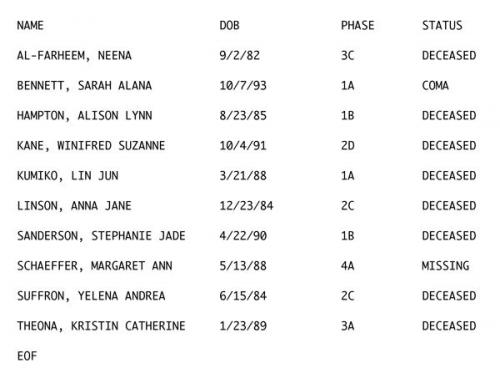 As a result of this image, members of the LG15 community believe that Margaret Ann Schaeffer, the escaped, perhaps trait positive girl will become an integral part of the series.
Book of...Poems?
The puzzle included in Jonas's text blog "Book of...Poems?" consisted of two phrases he found on the back of a Crowley Collection flyer:
For those who would endeavor
to acquire that which was His:
Respects must be paid, to those
who embody what He believed.

The daughter who lived for 6 years, then died.
The bride who died, then lived for 6 years.
Yet neither has left us.
Kneel at their feet and find answers.

The first section was found to be hinting that, in order to find the Samsaran Doctrine, further clues would be left in cemeteries in Chicago.
Reed hinted that clues would be left at statues, as hinted by "kneel at their feet and find answers". "Yet neither has left us" was found to be referring to ghosts or hauntings, narrowing the search further.
"The daughter who lived for 6 years, then died" was reference to the statue for Inez Clarke (who died at the age of six) in Graceland Cemetery.
"The bride who died, then lived for 6 years" was initially thought to reference the monument of Frances M. Pearce and Frances Pearce in Rosehill Cemetery and Mausoleum, but was found to be a dead end. The real answer to this clue was reference to the "Italian Bride" statue, created for a woman whose remains were discovered to be free of decay after six years.
Both statues held clues which Jonas found and used to phone Willow Wood Auctioneers.
RESPONSE REQUESTED
The cryptic photo included in the blog "RESPONSE REQUESTED" led to many dead-ends, regarding what the possible solution may be. The image included the text "wewillnotbestopped" and "Egan Togs".
The solution to the puzzle was to find an anagram of "Egan Togs", "SteganoG", which is also the name of an image encryption program. When the image is attempted to be decrypted, the program will prompt for a password, which was the other piece of the puzzle - "wewillnotbestopped". Once decrypted, the program returns a map, depicting the location of the Samsaran Doctrine.
1-800-I-CAN-REED
The puzzle posted with the video "1-800-I-CAN-REED" was supposedly supplied to Sarah by the Hymn of One to aide in translation of the Samsaran Doctrine. Sarah posted a passage from the book, as well as the key she was given, asking for the community's help.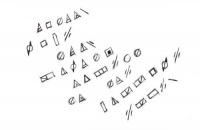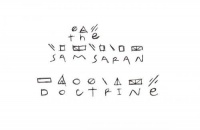 Through a simple substitution using the key, the solution was found to be "Hathor gave this mighty object to the village elder". Thanks to the solution, Sarah and Jonas were able to translate the whole of the Samsaran Doctrine.
Mystery Box
The video "Mystery Box" held a hidden puzzle, which was not confirmed until the following chat with the Hymn of None. It was discovered that the video itself held numbers, which led to a GPS location in Boston. The video "Battleground" revealed the community's discovery.
Just So We're Clear
Reed's blog Just So We're Clear held a note-so-hidden puzzle, as well. This puzzle can be casually spotted by the casual observer by locating all of the "typo" double-letters in the blog, forming the words "Help me". The words were meant to be easily found, to indicate that, despite the text of the blog, Reed was still being held by LifesBlood Labs.
1:00 PM
The 1:00 PM video of Day of Atonement mentioned a puzzle, which was available for download on lg15.com. The downloaded file was an Excel spreadsheet, seemingly covered in gibberish combination of "error" and "doc".
In order to solve the puzzle, the instances of "error" had to be replaced with the number 0 and "doc" with 1, revealing binary. The binary statements then had to be translated into text. Each letter in the text translation was separated by a character. Once the extraneous characters were removed, the following table was revealed:
STAR CAR RENTALS, Los Angeles
Customer Log for Daily Service: 11/3/07
Client
Vehicle
Start Mileage
End Mileage
Departure Time
Return Time
Willhall, S.
Sedan (Green)
55235
55491
06:54:00 AM
05:00:00 PM
Masters, A.
Sedan (Blue)
14675
14745
06:57:00 AM
12:00:00 PM
Samuelson, T.
Sedan (Aqua)
2094
2198
06:58:00 AM
03:14:00 PM
Ryder, N.
Sedan (Two-Door, Blue)
9934
9984
07:01:00 AM
03:47:00 PM
Refroe, J.
SUV (Black)
34098
34248
07:23:00 AM
04:19:00 PM
(Next Day)*
McKee, D.
Minivan (Blue)
21603
21754
07:30:00 AM
09:00:00 PM
Loman, J.
Sedan (White)
64732
64845
07:42:00 AM
02:10:00 PM
Green, M.
SUV (Blue)
6743
6899
07:51:00 AM
03:32:00 PM
Genatiempo, S.
SUV (Black)
23034
23302
08:00:00 AM
06:43:00 PM
(Next Day)*
Fried, C.
Sedan (Red)
71003
71156
08:02:00 AM
04:56:00 PM
Hayden, C.
Sedan (Blue)
15014
15234
12:45:00 PM
07:08:00 PM
Wayne, L.
Sedan (Two-Door, White)
3023
3141
01:03:00 PM
05:04:00 PM
Li, S.
SUV (White)
102559
102768
01:06:00 PM
06:15:00 PM
Fitzgerald, M.
Minivan (Red)
34902
35054
02:34:00 PM
09:02:00 PM
Sears, A.
Sedan (Green)
29238
29432
03:08:00 PM
07:15:00 PM
Phan, S.
Sedan (Two-Door, Blue)
9986
10134
04:30:00 PM
11:05:00 AM
(Next Day)*
Hansen, F.
Sedan (Two-Door, Red)
7793
7921
04:35:00 PM
10:00:00 PM
Womack, A.
Sedan (Convertible, Black)
114004
114202
05:00:00 PM
10:00:00 PM
Buchman, N.
Minivan (White)
11303
11354
05:04:00 PM
09:44:00 PM
Cooper, M.
SUV (Blue)
6982
7065
05:07:00 PM
09:17:00 AM
(Next Day)*
Beltran, D.
Sedan (White)
64293
64313
05:08:00 PM
11:05:00 PM
Lima, R.
Sedan (Black)
124003
124079
05:08:00 PM
10:39:00 PM
Piper, A.
Sedan (Convertible, Red)
34267
34280
06:10:00 PM
11:01:00 PM
*Delinquent Fee Applicable
Thanks to Sarah's recently discovered surname of "Genatiempo", this spreadsheet warned Maggie that Sarah was working for the Order.