Drop 7 (Yokayo Bowl)
From LGPedia
OpAphid posted Lose Something? January 25, 2007. Which lead us to believe this was the drop that would end "The Great Drop Drought"
Drop Location
We were first given a list of bowling alleys in suspected areas.

Lakeside Lanes, Lakeport
Napa Bowl, Napa
Boulevard Bowl, Petaluma
Double Decker Lanes, Rohnert Park
Continental Lanes, Santa Rosa (currently abandoned)
Yokayo Bowl, Ukiah
Windsor Bowl, Windsor

Through the video Lose Something? we figured we need to figure out the triangulation.
After many attempts, we finally recieved a message from OpAphid that confirmed the drop was at Yokayo Bowl, Ukiah. OpAphid's Email to Imagin
Ladron set out on a mission to recover the drop.
Drop Items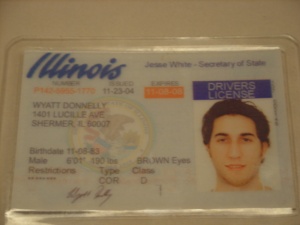 1) Daniel's Fake ID

Notes
The ID is pretty much an identical copy to a drivers licence featured in the movie Weird Science.

 
Illinois
 
Jesse White - Secretary of State
NUMBER
ISSUED
EXPIRES
DRIVERS
LICENSE
P142-5955-1770
11-23-04
11-08-08
WYATT DONNELLY
1401 LUCILLE AVE
SHERMER, IL 60007

Birthdate 11-08-83
(picture)
Male   6'01"
190 lbs
BROWN Eyes
Restrictions
Type
Class
** *** ***
COR
D
Wyatt Donnelly
 
At the right of the picture, there are two sets of numbers and letters:

First set - 137
Second Set - SD2146

The dish with the kids toys proved not to be a part of the drop. It was actually a geocache drop, which was taken care of.
External Links