Emma Fan Club
From LGPedia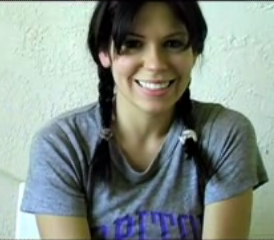 Welcome to the 'Emma' Fan Club!
If you can't get enough of the sweet, adorable, quirky little sister of Jonas, add your name to the member list!
Members
Charles Phoenix (Founder)
JustAnotherLonelyGirl
watching_watchers
colbertnationgirl
bianca23
she cant be...
RoseCrowley
KitKat
Drunken_Dreamer
Merrycam
AzukiLotus
Jungle
Caravelle-John(proud member for life)
total 14 members
Favorite Emma Moments!!!
1. Jonas first walks into her room to meet her and she says "This is weird. I have a brother... who's... holding a camera." LOL (JustAnotherLonelyGirl)
2. Emma's first Vlog where she can't stop giggling! She's so cute. (JustAnotherLonelyGirl)
3. eat pie- the whole video is just so adorable(caravelle)

4. I Love you all - It even made me start to cry.. second time emma did that to me.(caravelle
Emma Quotes!
Add your own Emma fan creations!
Pictures, Videos, Collages, Poems, etc.

--JustAnotherLonelyGirl 01:04, 11 October 2007 (CDT)
Page Created by JustAnotherLonelyGirl. AKA Loretta! <3 xoxox
--AzukiLotus 14:12 , 17 November 2007 (CDT) I made a userbox for Emma!This userbox is displayed on LGPedia:Userboxes/Fan Clubs. If you want to post it on your user page, just copy this code below!

--AzukiLotus 12:20 , 19 November 2007 (CDT) I just made a userbox for Emma Fan Club!