LG15: Anchor Cove cameos
From LGPedia
These actors and characters have had only a minor role in the LG15: Anchor Cove story. They are listed in order of appearance.
Fan Cameos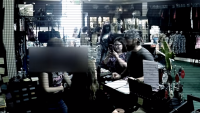 Fans have been invited to participate at several live events. In Daniel: What are you waiting for?, fans Angelique Toschi and James Brent Isaacs showed up to retrieve the Dark Delicacies Drop.
See also: lonelygirl15 fan cameos.