Brother replies to Tachyon
From LGPedia
Finding the Puzzle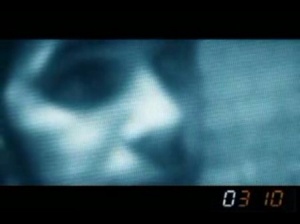 In the video, Can You Help A Brother Out?:
The timer in the bottom right corner flash at certain numbers: 3:10, 9:33, 6:2, and 6:3 which gives the phone number 310-933-6263. The message on the machine is a music mashup.

Solving the Voicemail
Listen:
Identified songs:
"Tiny Meat" by Ruby
"Two Kings" by Spin Doctors
"X Is Gonna Give It To Ya" by DMX
"O Fortuna" from Camina Burana by Carl Orff
"Anthem Park II" by Blink 182
"A" by Barenaked Ladies
"Aint Nothin But A G Thang" by Snoop Dogg
Solution:
Looking at the first letters of the song titles (#2-7) we get 2XO2AG. The first song, "TINY Meat" indicates a TINY url. When put together, we got the link http://www.tinyurl.com/2xo2ag.
SETEC ASTRONOMY
Our tinyurl led us to http://rapidshare.com/files/50428329/SETEC_ASTRONOMY.MP3
Listen:
Definition:
Tactics for Solving
Helpful Hints
A Hint From Tachyon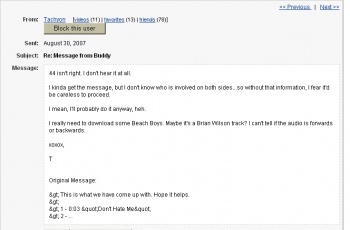 A Hint From Brother
On 08/29/07, Brother updated his profile to say the following:
This led us to a tinyurl, which led us to an MP3 file.
Identified Songs:
0:00 - "This Is Me (Bad Boy Remix)" by Dream feat. P. Diddy and Kain
0:08 - "Long Island" by That Dog
0:24 - "I Want You To Want Me" by Letters to Cleo
0:37 - "The Ripper Strikes Back" by LL Cool J
0:50 - "Good Vibrations" by The Beach Boys
1:07 - "SharpShooter (Best of the Best)" by Rascalz feat. Bret 'Hitman' Hart
Tie-Ins To The Big Mashup:
Same song as #7 in the big mashup.
The artist, That Dog, was the same artist for song #9
The artist, Letters to Cleo, was the same artist for song #13
The artist, LL Cool J, was the same artist for song #15
The artist, The Beach Boys, led to the Brian Wilson cover for song #44
The artist, Rascalz, was the same artist for song #43
Identified Songs
0:03 "Don't Hate Me" by The Get Up Kids
0:06 "Dirty Little Secret" by All-American Rejects
0:09 "Crazy in Love" by Beyonce
0:12 "It Feels Good" by Tony Toni Tone
0:16 "We're At The Top Of The World" by Juliana Theory
0:17 "Scenario" by A Tribe Called Quest
0:20 "This Is Me (Bad Boy Remix)" by Dream feat. P. Diddy and Kain
0:23 "Am I Ready" by Spitalfield
0:26 "She Looks At Me" by That Dog
0:26 "If I Could Talk, I'd Tell You" by The Lemonheads
0:30 "All The Things She Said" by T.A.T.U.
0:33 "It's Gonna Be Me" by 'N Sync
0:37 "Here and Now" by Letters to Cleo
0:40 "So Help Me God" by DC Talk
0:40 "I'm That Type Of Guy" by LL Cool J
0:44 "Work" by Jimmy Eat World
0:46 "$85 bucks an hour" by Twiztid
0:53 "New Beginnings" by Finch
0:59 "Hands Clean" by Alanis Morrisette
1:01 "No Myth" by Michael Penn
1:02 "Same Song" by Tupac/Digital Underground
1:06 "She's Crafty" by the Beastie Boys
1:08 "Buried Myself Alive" by The Used
1:11 "Torn in Two" by Waxv
1:15 "I'm A Fool" by American Hi-Fi
1:20 "All 4 Love" by Color Me Badd
1:24 "Whats My Age Again" by Blink 182
1:26 "10 Year Old" by Mc Chris
1:29 "What Would You Do" by City High
1:34 "No More Questions" by Eazy-e
1:41 "Where Is My Mind" by The Pixies
1:43 "Since You've Been Gone" by Kelly Clarkson
1:49 "This Charming Man" by The Smiths
1:55 "Fell In Love With A Girl" by The White Stripes
1:57 "Cool It Now" by New Edition
2:01 "It Takes Two" by Rob Base and DJ E-Z Rock
2:02 "Somebody Told Me" by The Killers
2:04 "Danger (Been So Long)" by Mystikal
2:07 "All Downhill From Here" by New Found Glory
2:11 "Here's Where The Story Ends" by Tin Tin Out/The Sundays
2:16 "Cruel Summer" by Bananarama
2:20 "Girl All the Bad Guys Want" by Bowling for Soup
2:24 "Game Time" by Rascalz
2:27 "Heros and Villains" by Brian Wilson
2:29 "Where'd You Go" by Mighty Mighty Bosstones
2:34 "Prevent This Tragedy" by Alkaline Trio
Solution
Demonicpagan, posted his interpretation of this. This is what he came up with.
Don't hate me, but I have a dirty little secret. I'm crazy in love and it feels good. We're at
the top of the world. Here is the scenario. This is me (a bad boy). Am I ready to go through with
this? She looks at me and if I could talk, I'd tell you all the things she said. It's going to be me,
here and now, so help me God. I'm that type of guy.

I now work. I get paid $85 bucks an hour. I have a new beginning with clean hands. This isn't a myth.

It's the same song. She's crafty. I'm going to bury myself alive. I'm torn in two. I'm just a fool
for love. What is my age again? I feel like a 10 year old. What would you do?

Enough with the questions. Where is my mind?

Since you've been gone, this charming man fell in love with a girl.

Cool it now! It takes two (to tango). Somebody told me that there is danger, yet it's been so long.
Things are going downhill from here. This is where story ends. It has been a cruel summer. She's the
girl all the bad guys want. It's game time. Time to play heroes and villains.

Where did you go? We need to prevent this tragedy.
44, the last song to be identified was the only song that was reversed.
Notes