Drunk
From LGPedia
Throughout the show, several characters have consumed alcohol and become drunk. This is a short summary of their experiences and an indepth analysis.
Episode / Consequeces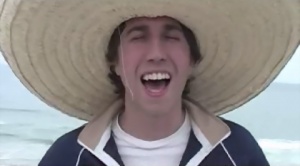 Other Episodes
Non-Episodes
Analysis
Daniel has two stages. Either he's a booze hound or he completely abstains. This further illustrates his unhealthy relationship with alcohol, how his drinking habits move rapidly across the spectrum with no ability to consume in moderation.
With the possible exception of Random Girl and Alex, none of the characters have been able to hold their alcohol. The sobriety spectrum goes from stone sober to stone cold sober to sloshed drunk and there is no middle ground. Some might argue that this paints an unrealistic picture of alcohol.
Nikki Bower takes a shot of vodka while Investigating Pins and Pints for clues pointing towards Daniel's disappearance.
Nikki Bower teases Daniel about his drinking while in Texas by asking Jonas to join her in a drink and disinviting Daniel. Tough love!