Level 26
From LGPedia
Level 26


Created by
Anthony Zuiker, Miles Beckett, and Greg Goodfried

Cast
Steve
Daniel Buran
Norman
Michael Ironside
Sqweegel
Daniel Browning Smith
Josh
Kevin Weisman
Jack
Bill Duke
Tom
Glenn Morshower
Constance
Ava Gaudet
Sibby
Tauvia Dawn

Production Crew
Illustrations
Marc Ecko
True Crime Bloggers
Kristine Huntley
Director
Anthony Zuiker
Assistant Directors
Otto Penzato
Tommy Villafranca
Executive Producer
Matthew Weinberg
Producers
Orlin Dobreff
Jennifer Cooper
Key Production Assistant
Noah Henry
Production Assistant
Ramine Bahraini
Nicky Venera
Line Producer
Otto Penzato
Director of Photography
Morgan Schmidt
Assistant Camera
Sherri Miranda
Gaffer
Jeff Fry
G/E Swing
Matt Knudsen
Matt Castellitto
Grant Culwell
Property Master
Andy Grant
Assistant Props
Aaron Goffman
Costumer Designer
E Dee Biddlecome
Set Costumer
Brandon Bernard
Make-Up/Hair
Debbie Schrey
Bonni Flowers
SFX Make-Up
John Goodwin
Set Decorator
Dean Wigger
Cindy Coburn
Set Dresser
Sean Langdon
Sound Mixer
Marcos Contreras
Boom Operator
Amanda Beggs
Construction Coordinator
Steve Fidler
Props Intern
Jeaneth Goffman
Video Supervisor
Rob Nelson
Stills Photographer
Orsoya Tucker
Storyboard artist
Jeff Errico
Locations
Mona Nash
Transportation Coordinator
Gary Hellerstein
Editor
Maureene Meulen
Assistant Editor
Sera DiBlasio
Script Supervisor
Nirvana Adams
Writers
Anthony Zuiker
Duane Swierczynski
Assistant to M. Weinberg
David Boorstein
Assistant to A. Zuiker
Rachel Goldberg
Caterer
Tony's Catering
Craft Service
Alex DeLeon
Extras Casting
Sandi Alessi Casting
Level 26 is a digital novel series and social show written by the Emmy-winning CSI franchise creator Anthony Zuiker. EQAL has been hired to develop "a rich social network, blog and destination web site for the series." The website launched in July, and the first novel, Dark Origins, is set to be released on September 8, 2009.
The official premise for Dark Origins is as follows: It is well known among law enforcement personnel that murderers can be categorized on a scale of twenty-five levels of evil, from the naive opportunists starting out at Level 1 to the organized, premeditated torture-murderers who inhabit Level 25.
What almost no one knows—except for the elite unnamed investigations group assigned to hunt down the world's most dangerous killers, a group of men and women accounted for in no official ledger, headed by the brilliant but reluctant operative Steve Dark—is that a new category of killer is in the process of being defined.
Only one man belongs to this group. His targets: Anyone. His methods: Unlimited. His alias: Sqweegel. His classification: Level 26.
As readers read the Level 26 books, they will see codes in the book to unlock what Zuiker is calling "Cyberbridges." Cyberbridges, when unlocked, give the reader an ultimate experience to that part of the novel, giving them two-minute movie episodes with Hollywood actors, audio files, pictures, and more interactive content.
Cast of characters
Daniel Buran as Steve Dark, the ultimate crime scene tactician on the tail of a killer so brutal law enforcement has invented a new classification of evil to account for him.
Michael Ironside as Norman Wycoff
Daniel Browning Smith as Sqweegel
Kevin Weisman as Josh Banner
Bill Duke as Jack Mitchell
Glenn Morshower as Tom Riggins
Ava Gaudet as Constance Brielle
Tauvia Dawn as Sibby Dark
Conception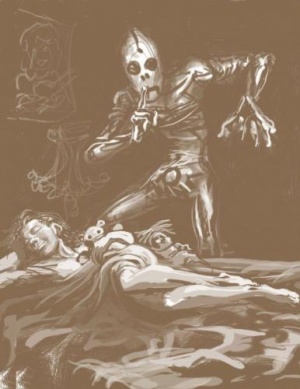 Zuiker began outlining the book while working on revisions for the script of Terminator: Salvation.
<ref>http://www.level26.com/tlc_units/filter/2/234/1</ref>
External links
References
<references/>