Magija
From LGPedia
Magija is the twenty-first video in the N1ckola video series.
Transcript
!!! This Transcript Is Incomplete !!!
Please contribute to the LGPedia and complete it.
Translation
(All lines in this transcript were either originally in English or have been translated into English. N1ckola intro is shown. A shot of a wall with Tarot symbols is shown. Cut to Kama looking at a photograph.)
Kama: Oh fuck look at his face here! Massacre! (Tosses the photo to Ola.) I don't understand how you could date such a stupid guy! (Takes a sip of wine.)
Ola: Um look whose talking!
Kama: Do you know what he once said to me? That he wants to be a roaster in the future, not a baker, a roaster! Massacre! (Kama and Ola laugh hysterically.)
Ola: Oh give me a break. Don't even remind me! Better tell me how you're doing!
Kama: Well I'm not a roaster for sure!
Ola: But you're still as annoying as always!
Kama: Okay okay I'll stop now. How I'm doing...nothing in fact. I didn't win the lottery, but I'm working in advertising company as an assistant. Very exciting! (Takes a sip of wine.)
Ola: More wine?
Kama: No I'm fine thanks. Oh is that yours? (Picks up the phone box.)
Ola: (Pouring wine.) Yeah.
Kama: Mmm, (Reads offer about low prices.) Wow! That's cool! Look so much talking and texting for free and you don't even have anybody to contact with. (Puts the box back.) That's a shame!
(Ola looks down guiltily, then snaps her head up.)
Ola: Oh come on now, give me a break! Better take care of these cards. (Starts moving the Tarot cards on the table around.)
Kama: Okay, but no joking here okay? These are the Tarot cards, there's 78 cards, which we split on 2 parts: Great initiations and smaller initiations. These are Thoth Tarots - Crowley's cards - one of the biggest people of tarot. He made his doctrine and called it 'Magija'.
Ola: (Jokingly) Ooooh, so that's a serious case. (Picks a card up off the table.) What's this card miss fortune teller?
Kama: The end of cycle, some important change, like passing from one stage to another. At the beginning it may be hard, but it can be a good change. You know like a total transformation, for example end of long time relationship. Getting away from the past.
(Ola throws the card back on the table. Kama takes a slip of wine, and Ola picks up another card.)
Ola: And this one?
(Kama freezes and stares at the card. Cut to a brief closeup of Kama in black and red.)
Kama: It's a card of death.
(Ola looks at the card then back up at Kama. Cut briefly to Daniel running down an alley. Credits are then shown.)
Notes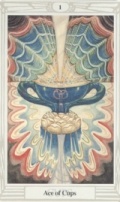 This video mentions Aleister Crowley several times.
In Polish, the words "roaster" and "baker" are spelled similar.
When Ola holds up the Ace of cups, she holds it upside-down. Kama's interpretation of the card can be considered inaccurate as well, as it really represents the beginning of love, fertility and creativity.<ref>http://www.angelpaths.com/cups/cups1.html</ref>
The chalice depicted on this version of the Ace of Cups is taken to be the Holy Grail, which was used to hold the blood of Jesus Christ in the Christian religion. It is also sometimes associated with the ability to give those whom are worthy to approach it eternal youth.<ref>http://www.mystical-www.co.uk/grail/</ref> This, combined with the card of death, predicts the nature of Ola's death at the end of the season - drained of blood in the Ceremony to extend the life of Halvard.
References
<references/>