Sydney
From LGPedia
Sydney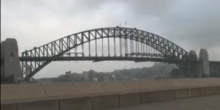 Appearances
Downtown Sydney
Darling Harbour
Airport
Balmain Pier
Sydney, Australia is the hometown of Chasina Wilson and Mitch Evans. It is located on the east coast and is the largest city in Australia and the capital of New South Wales. In If You're Out There Chas and Mitch are in Circular Quay (1), the heart of Sydney Harbour (2) and the location of the Sydney Opera House. Chas and Mitch are walking up stairs which lead to the Royal Botanical Gardens. Chas and Bray run back to this area in the last episode of season one, Alone. In Paranoid Past Mitch can be seen at Milsons Point (3), located on the north side of the Sydney Harbor Bridge.
Chas and Mitch live in the leafy northern suburbs of Sydney (north of the harbor).
In Welcome Back, Bray is heading to the Sydney airport which is in the suburb of Mascot, in south Sydney. During the driving scenes, Bray travels through the Cross City Tunnel (4).
In Lost and Found Mitch and Bray try to decipher the blueprints whilst they walking around Darling Harbour (5), a smaller harbor located west of Circular Quay and the Harbour Bridge. During this video the Australian Maritime museum can also be seen. During this video Chas is in Hyde Park (6), located in the centre of the Sydney CBD.
When Chas looks for a boat in It's Not What it Seems she is at Balmain Pier (7) which is further inner west of Sydney harbour.