F.O.B. Life
From LGPedia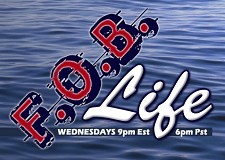 F.O.B. Life was an internet radio show hosted by Yousef Abu-Taleb and Reza Bahadar at nowlive.com. It debuted on May 2, 2007, and was scheduled for every Wedneday at 9pm ET/6pm PT. The last show was December 19, 2007.
Its guests included many cast members of lonelygirl15: Alexandra Dreyfus (June 6, 2007), Becki Kregoski (June 20, 2007), Jackson Davis (July 18, 2007 & Dec. 19, 2007), Jessica Lee Rose (August 8, 2007), Maxwell Glick (August 15, 2007), Katherine Pawlak (September 27, 2007), and Carly Jones (Oct 3, 2007).
The official show description was: "Coming at you with a foreign yet familiar perspective on life, love, and film in America, Yousef Abu-Taleb (Virginia born by way of Jordan) and Reza Bahador (California born by way of Iran) are here to talk with YOU about their completely biased views and opinions on music, movies and everything in between. That's right, it's the F.O.B. Life baby!"
The show's theme song was created by Glenn Rubenstein, using the voice of the actress who plays OpAphid.
External links