Carly Jones
From LGPedia
Carly Jones is the actress who played Mallory in the lonelygirl15 web series. She was born in Jacksonville, FL and moved to Dallas, TX at the age of twelve.
In high school, Carly competed on the speech and debate team, but her true passion was dance. A dancer for fifteen years, Carly danced at the Boston Ballet intensive program when she was 15, and the American Ballet Theater's intensive program when she was 16 years old. For most of her life, her goal was to become a professional ballet dancer. However, she discovered that one could reach a pinnacle with ballet, at which point one is considered perfect and has accomplished every dance move. Acting, on the other hand, was always subjective and a challenge, which appealed to Carly who enjoys a good challenge. With that in mind, Carly decided that she would try to pursue acting professionally instead. She began to work towards her new goal while still in high school, and soon won a few best actress awards for Texas's One-Act Play competition.
Carly then went on to study at the University of Oklahoma. During one of her summer vacations, she got the chance to take advantage of her passion for travel. She spent a month back-packing across Europe, which she still considers one of the best experiences of her life. After a mere 3 1/2 years at the school, Carly graduated with a BFA in Drama in 2004. She then headed west to Los Angeles to pursue her career in acting.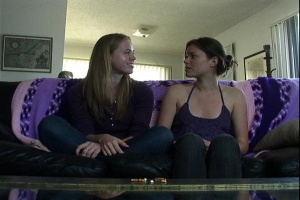 A very athletic girl, Carly competed in the Nautica Malibu Triathlon, where she finished in under three hours, thereby reaching her goal. She loves doing anything outdoors, whether it be hiking, biking, or whitewater rafting. However, she hates running. Carly also enjoys the beach, where she can snorkel or scuba dive. Additionally, she loves shark week on the Discovery Channel, and her two cats named Brick and Twiggy. Her favorite food is sushi, her favorite ice cream is green tea mochi, and her favorite color is green, with yellow as a close second.
Carly stars in former lonelygirl15 writer Mary Feuer's web series "With The Angels," which debuted in October 2008.
External links