Quietus
From LGPedia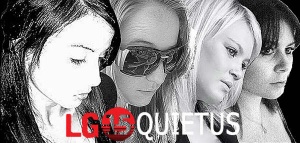 Quietus is the title of the LG15: The Last Series finale, which began on June 30th, 2009.
The series was originally only intended to last for eight weeks, but EQAL gave the crew of the Last the greenlight two produce to more weeks of content along with a finale. However, due to a series of issues including illnesses and scheduling, there was a month long delay in between the first ten weeks and the finale.
The Event
Videos started on June 30th and are listed below:
In the Aftermath of Toni and Leigh's kidnapping, only Bray wishes to stay and fight.
Toni is tortured by the Order to provoke Bray and the others.
Sibylla's brother Xavier comes forward.
Mitch and Chas break up, and Chas reveals exactly how much she hates Toni.
Erica confesses her misdeeds, and promises to help Bray rescue Toni.
Jayde and Chas reflect on their actions and decisions, and Mitch and Bray form a plan of attack.
Jayde reveals that Chloe is still alive, and makes a deal with the Order.
Jayde locates Chas, and Mitch and Bray enter the Order.
Jayde gets doubled crossed and someone is shot.
The Ceremony begins, and the traitor is finally revealed.
Mitch is given an awful task, Bray is captured, and one of the last dies.
Xavier tortures Jayde while Chas and Bray reminisce over Mitch and Toni.
Publicity
The Announcements
Revised Scheduling
Press Photos
To help generate publicity for the event, EQAL released promotional images on Inside LG15 and updated the character profile avatars.