Kevin Schlanser
From LGPedia
Kevin Schlanser is the camera operator for the LG15: The Resistance web series and was a camera operator, editor, and director for videos in the LG15 series. He is also the head of cinematography for the EQAL-produced social show Harper's Globe, and portarys the character of Cheshire Cat. He was first credited on the video What's A Date?. Additionally, Kevin has composed and arranged music for the series, such as his piece "Discovery," which was featured in the video HOLY SH%T!!!.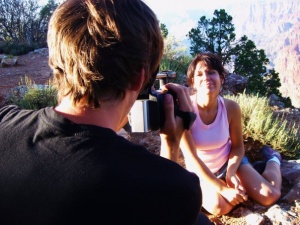 A native of Nevada City, CA, Kevin attended the New York Film Academy in Los Angeles with Jessica Lee Rose. The two worked together on the short film, In The Deep, while attending the school.
After graduating NYFA, Kevin and his friend Zack Bennett formed the production company "DirtyPelican Films." In 2006, the company produced the short film, The Utopian, starring Guillermo Diaz and Richard Riehle.
Among his other talents, Kevin is a skilled photographer and has taken many of the behind the scenes photographs featured on the Inside LG15 blog.
External links