Melanie Merkosky
From LGPedia
Melanie Joanna Merkosky is the actress who played Jennie in the lonelygirl15 web series. She also plays the lead role of Robin Matthews in the EQAL-produced web series Harper's Globe. A native of Canada, Melanie first got involved with the performing arts when, at the age of three, her parents noticed that she liked to watch television in a perfect Russian split position on the floor and enrolled her in her first dance class. When she was eight years old, Melanie was accepted into the Young Canadians School of the Performing Arts, with whom she studied for the next ten years. During that time she performed in theaters across the country before going on tour with the musical Mamma Mia! with the First National Touring Company.
From there, Melanie pursued her interest in acting for film and television. While still living in Canada, she landed small roles in "Honey, I Shrunk the Kids" the T.V. series, and the T.V. movies Noah and The Sheldon Kennedy Story. She then went on to become a series regular on the show "Slings and Arrows" and had the opportunity to perform original songs written by the Tony Award winning duo Greg Morrison and Lisa Lambert. Since then, she has moved to the US and appeared in other programs, including "'Til Death Do Us Part," "Slings and Arrows," and "Runaway." In 2006, Melanie played Natalie in the movie American Pie Presents: The Naked Mile, the role for which she is probably best known.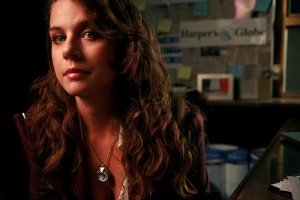 The following year, Melanie got the part of Jennie in lonelygirl15. She had heard of the show before getting cast, but hadn't realized how widespread and interactive it was until she started doing research. The casting process involved a total of four auditions, the last one being a "chemistry read" alongside Jackson Davis and Alexandra Dreyfus. Since joining, Melanie has commented on the fan interaction, saying, "I think it's great. There is a real family dynamic at LG15, and the fans are a huge part of that."
In late February 2008, Melanie headed to Canada to shoot a short film called Shay & Stay From Planet Sun. Not much is known about the project at this time, other than that it will be submitted to all major short film festivals.

External links