JTV Headquarters
From LGPedia
JTV Headquarters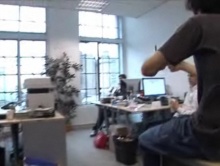 Appearances
JTV Headquarters, headquarters for internet television channel JustIncredible.TV, is located near Brick Lane in London.
Julia often blogs from her desk, as she has been assigned by her boss, Justin, to document the happenings behind-the-scenes at the channel. Julia appears to be the only staff member other than Justin that doesn't share/switch desks with other staff members.
Justin's office is removed from the staff members' desks, and is in a re-purposed handicap bathroom.
Crew
Justin - creator and producer of the channel; retired
Julia - programming director; comes up with concepts for new shows
Lee - "Internet Celebrity"; "face" of the channel; owner following Justin's retirement
Gavin - technical manager
Notes
The scenes from within JTV Headquarters are shot in the KateModern production team's office.