Carnaby Street
From LGPedia
Carnaby Street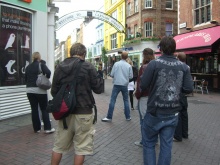 Appearances
Sophie
organized fans to meet up at
Carnaby Street
to help save
Kate
from
"creepy Steve"
. While they were there, a body bag was rolled out of a clinic, leaving fans to worry. However, it was soon revealed that nobody was in the body bag. The
doctor
who was supposed to be dead had
faked his own death
.
Ola and Daniel are also revealed to live near Carnaby Street in N1ckola.