Lucinda Rhodes Flaherty
From LGPedia
Lucinda Rhodes Flaherty is the actress who played Julia in the web series KateModern. Lucinda attended the Sylvia Young Theatre School before appearing in the CBBC program, Cavegirl, as well as the Sky One drama, Dream Team. She has also since appeared in Harry and Cosh and My Parents Are Aliens and participated in theater tours of Allo Allo and Teachers. She was once part of the band, From Above, but after Julia became a more prominent character in KateModern, the band released the following statement: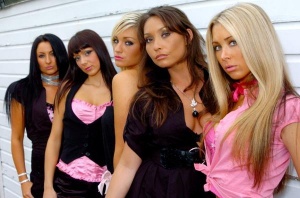 "Due to filming commitments away from the band, Lucinda has decided she cannot dedicate the time From Above dictates as of Major Label signing from 2008. Therefore, it is with regret that both parties have agreed to part company. We wish Lucinda all the best in the future and hope she achieves all she desires in the world of acting! XXXXXX"
Lucinda is inspired by people who go out of their way to help others they don't know. She eventually hopes to live in South Africa and loves big red buses.