The warehouse
From LGPedia
The Warehouse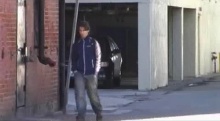 Appearances
In Warwalking, Bree and Daniel take refuge in an abandoned warehouse.
Inside the warehouse we catch a glimpse into the living conditions of Bree and Daniel while homeless. After a shot of a crow, the camera pans to a wheel with a very distinctive logo on it. In the following shots Bree is walking down a street beside a building built with very distinctive brick work. Here we see Daniel looking for a wireless connection; a process commonly called "warwalking". Bree points out a symbol on the ground that is the warwalkers' symbol for an open node. Bree and Daniel have taken to looking in dumpsters for resources. Here we see a number of things in a dumpster including: Premium crackers, a cup from Del Taco, a grocery bag from Trader Joe's, and a Snickers wrapper. While Bree is talking about their plight and living arrangement there appears to be a very distinctive graffiti mark on the door behind her.
The watcher
In the background of this picture (see gallery bellow) we can see a dark figure (possibly two) who may well be watchers. With this type of film making it would be easy to avoid having such a figure in the video so the placement would appear to be deliberate. However, we cannot say if the intention was to place a watcher in the location or if it was to create a frenzy of rumours with viewers.
Gallery