Wyman Foundation
From LGPedia
The Wyman Foundation was first discovered when Taylor analyzed the bar codes from the box left for Bree by her dad. The Wyman Foundation's logo is a lemniscate, like those found on the boxes of Epogen.
The Website
"The Wyman Foundation is a private, non-profit basic research and educational institution. Under the leadership of our world-renowned staff, some 330 scientists conduct groundbreaking research in cancer, neurobiology, plant genetics and bioinformatics. The Wyman Foundation is one of eight National Cancer Institute-designated basic research centers in the U.S. and the only such center in the San Diego area.
Established more than fifty years ago, Wyman Foundation is today recognized internationally for its educational activities, including an extensive program of scientific meetings and courses that attracts more than 8,000 scientists to the campus each year." [1]
What Is It, Really?
The Wyman Foundation is actually a front for the Order. They help the Order gather information regarding ribozymes, blood traits, and more.
Location
Wyman Foundation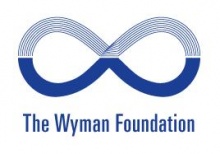 Appearances
The scenes at the Wyman Foundation do not actually take place at the Wyman Foundation in San Diego. They are all in Calabasas, CA, which is north of Los Angeles. The locations are the Union 76 station on Calabasas Road, The Commons on Calabasas Road, and an office park on Murearu Road.
Gallery