Cynthia
From LGPedia
Cynthia Davis is a character in The Chosen Flock Video Series. Cynthia is an old friend of Alessandra. She comes from a troubled family and tends to have a wild streak, often making jokes at the expense of her friend Paul.
Background
Early Life Choices
Cynthia grew up in London in an loving environment, her parents doting on her and raising her to be a well-mannered person. She and her best friend Alessandra became close at a young age, and Alessandra helped Cynthia overcome her fear of the horror genre by pointing out all the fake aspects it contained.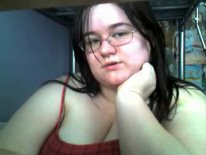 The two of them once ran away from home after an argument with their parents and childishly decided to live next to a duck pond they were fond of visiting. However, they were soon located, and they returned home. As they grew older, Alessandra's parents became concerned that Cynthia's partying lifestyle was exerting a negative influence over Alessandra, and they moved to a different part of London when Alessandra was 16. A year older than her friend, Cynthia began attending college, but quit after she became bored of it, and instead immersed herself in the London party scene. Presumably, this is how she met her boyfriend Matt, who is a bouncer for an 18-and-over club.
Cynthia and her friends made plans to attend an Arctic Monkeys concert at Matt's club, and Cynthia took the opportunity to ask Alessandra to spend some time with her old friends. Alessandra accepts the invitation, and snuck out of her house and spent the night with her friends.
Increasingly Complicated
Afterwards, Matt's boss was informed that he had snuck in underage individuals and Matt was nearly fired from his job. However, Matt's father knew the owner of the club, and managed to have him keep his job. Matt had to work overtime to make up for it, and also had to call Cynthia's parents to let them know what their daughter had been up to.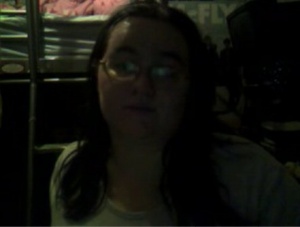 As a result, Cynthia was grounded for two weeks, and spent her time watching the reality show Big Brother. She soon regroups, and invites Alessandra to a weekend sleepover. However, Alessandra failed to show up and stopped responding to Cynthia's messages. Cynthia became extremely worried, and makes a video pleading with Alessandra to contact her, and telling to not to flat out not let her parents influence her decisions. Alessandra responded with a rather ominous video that contained the message "Sophie watches all", referring to her new adviser. Cynthia posts a response saying that she's sorry for bugging Alessandra and will leave her alone, while secretly conveying the message "Understood". She reveals that her father was fired from his job due to budget cuts, but seemed to be the only one who was, and he's too depressed to look for another. Her mother gets a job at a coffee shop, and Cynthia begins looking for a job as well. A few weeks later, Cynthia is hired to play guitar at her mother's coffee shop, and she makes one final effort to invite Alessandra to spend time with her.
However, the day of the event, the coffee shop is closed due to a radium leak. Cynthia finds out via her mom that the man who was injured by the leak was a member of the Hymn of One posing as an equipment inspector. Cynthia realizes that the incident was a failed attempt on her life, and she calls Paul, who freaks out and tells Cynthia to go on the run.
Finding a Friend
Cynthia and Matt go to a hotel, and Cynthia gets a text message from Paul telling her that he has Alessandra and he'll meet her there. However, they never show up, and Cynthia decides to go spend time with her cousin in Scotland in order to distance herself from London. When she returned to London, Cynthia found out that the coffee shop in question belonged to a woman named Michelle Clore, a world famous artist and an Elder of the Hymn of One.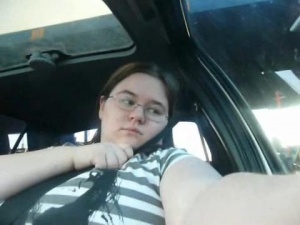 She decides to investigate, and goes to an art exhibition to promote the art of Kate Strathcarron that Clore is attending. However, Cynthia learned nothing that would help her, and Michelle Clore is assaulted minutes after entering the exhibition and is forced to leave. Soon afterwards, Cynthia is contacted by an individual claiming to be Alessandra via Bebo. Alessandra then posts a video telling Cynthia that she is safe, and posts a riddle that leads Cynthia to a drop she and Paul left at the duck pond. The drop contains a google map of Leamington Spa, Warwickshire, UK, the birthplace of Aleister Crowley. Cynthia convinces Matt to take her there to look around. However, they find nothing that would suggest Alessandra and Paul were there, and Matt tells Cynthia that she is probably the victim of a cruel joke. Cynthia reluctantly gives up the search for Alessandra, seeing logic in Matt's explanation.
She begins to take steps to live a normal life again, and tells the police that she knows nothing about Paul and Alessandra's whereabouts after his parents reopen the case. She attends Holly's birthday party, and passes out on the bed, only to wake up to a camera sitting on the nightstand and filming her. Cynthia tells the camera all that has happened, and says that she needs to forget about Alessandra before she goes insane.
Notes
Cynthia knows sign language, as revealed in the message she conveys Alessandra through the ability in My Last Video Maybe?
Cynthia has a dog, who appeared in her videos Movie Time! and The Duck Pond
She appeared at the Second Space Gallery in KateModern in The Gallery - 6pm 22nd September 2007.
Etymology
Cynthia is the Latinized form of Greek Κυνθια (Kynthia) which means "woman from Kynthos". This was an epithet of the Greek moon goddess Artemis, given because Kynthos was the mountain on Delos on which she and her twin brother Apollo were born. It was not used as a given name until the Renaissance, and it did not become common in the English-speaking world until the 19th century.<ref>http://www.behindthename.com/name/cynthia</ref>
References
<references/>