The movie theater
From LGPedia
The movie theater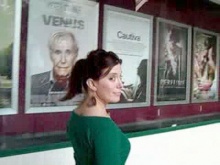 Appearances
In the video Date With P. Monkey, Bree leaves Daniel at the second motel, and goes to a movie theater at a nearby mall with P. Monkey. Nikki Bower later went to the same movie theater in My Day at the Movies - NBR 5.
Watchers in the shadows?
In Date With P. Monkey, Bree stated that she was afraid she was being followed, and adopted a disguise. P. Monkey also went in disguise. Some fans looked for potential Watchers in the video footage of the movie theater. Men were thought to be spotted in the reflection of Bree's sunglasses and in the reflection of the glass cases containing the movie posters. The shadow in the glass case is probably an illusion created by the design on the poster for the film Cautiva. There is also a man smoking in the shadows of this location, and the optical illusion of a man in a suit behind a fountain that Bree films. This man was actually just the space in between two pillars. The man in the shadows is difficult to make out, but it has been suggested that the top of his head is actually reflected light, and that he could even be bald.
Refences to Fur
In the same video, Bree mentions, for no apparent reason, that P. Monkey does not wear fur. Also during the footage, we see a poster for the film Fur at this location.
Location of the movie theater
Nikki Bower identified the location of the movie theater and investigated the place in My Day at the Movies - NBR 5. The location is Laemmle's TOWN CENTER 5, 17200 Ventura Blvd., Encino, CA.